ALERT! 7/25/00
Important Announcement!
During the upgrading of the ITGT6R, between 6/25/00 and 7/25/00, we've been able to prove to ourselves that quite a few incomplete entries did not make it into the new data tables. If you registered you GT6 between the dates listed above, you may want to go in an see if you vehicle is listed. We believe we may have lost nearly 90 entries. If you're vehicle was previously registered, you may want to delete your old record, and update your entry under the newer, full featured format.

Started several years ago by Mr. Sam Gentry, the registry is an attempt to assemble and maintain a log of all the Triumph GT6 vehicles produced, and their present day condition. Ownership, location, state of repair, are all logged as well. This truly requires an International effort. What better media than the Internet for this purpose.

Custodianship was passed to Teglerizer(tm) in May 2000. Hence the slightly new look to these pages. Teglerizer is happy to extend support for this original effort by hosting and maintaining this active 'user programmable' archive.
If in the past you had registered your GT6 and you don't see the info in the Registry, please check it again carefully. If you still don't see it, please consider re-submitting your information. If all else fails you can email and describe you request/problem.
Production Figures
MkI


Built July 1966 to September 1968
Number built 15,818
Chassis numbers KC1 to KC13752
Basic price £800.00
MkII


(U.S. market - GT6+)
Built July 1968 to December 1970
Number built 12,066
Chassis numbers KC50001 to KC58046. From July 1968-October 1969
and KC75001 to KC82398 from
October 1969 -December 1970,
Basic price Starting at £879.00 rising to £925.00 at end of production run.
MkIII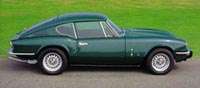 Built October 1970 to December 1973
Number built 13,042
Chassis numbers KE1 on (1971), KE10001 on (1972),
KE20001 to KE24218 - (Feb. 1973) on
(U.S. market used KF prefix)
Basic price Starting at £970.00 rising to £1285.00 by 1973.
All information contained here has been submitted by second sources (you the owners) . There is no way for me to certify accuracy as to who/what/where/when. This is strictly and archive of the vehicles locations as defined by you, the owners.
Be sure when entering a listing, that you supply all information requested. The scripts here, should let you know if data entry needs adjustment.
The scripts check for completeness of data, without which the entry will not be accepted by the database.
At a minimum we need a vehicle commission number (for sorting and display purposes), year, model, running status and country of origin. Your email address and password are used to allow you to enter at a later date and modify your information as desired.