The installed height of the lever with the new knob is almost identical to an original knob and lever.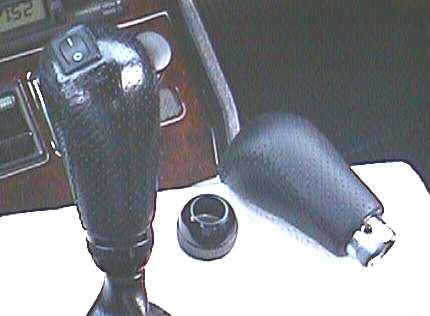 The switch itself, is a low profile toggle switch. It is mounted off-center in a depression in the top of the knob. This depression works well to keep the top of the switch nearly flush with the overall circumference of the top of the knob.
The switch is press fitted into place. The compressibility of the leather folded down into the mount hole keeps it firmly in place. This allows you to install the knob, connect the wires, then push the switch into place.
These photos show the Custom modified, Leather covered shift lever as installed in a 1973 MGBGT.

This Knob is designed as a universal fit for multiple diameter shift stalks. It is supplied with multiple inserts to correct for shaft diameters. The round collar, laying in the middle of the photo is the bottom end of the knob.

There are three set screws used to retain the knob on the stick. The collar hides these set screws. Due to the height of the knob, it fits down over the stick well below the original stalk threads, hence the use of set screws and the diameter adapters.

Along with the set screws, a short length of rubber tubing is wrapped around the stalk and compressed by threading on the bottom collar, thus firmly centering and retaining the knob in place.

The installation in my own cars have faired very well over the last 13K miles with no hint of any problems.

for more information (or one for yourself) you can contact me via e-mail