Cherry's Engine
The Exterior The Engine The Interior
Presently Cherry is running off of a Mallory dual point distributor and a tweaked stock Stromberg CD150 carburetor. Most of the plumbing for the air injection system has been removed. She breathes through a Long-Flo air filter and an after-market 4 to 1 exhaust header, feeding an otherwise stock exhaust system. A compression test showed me she still a has a reasonable life left in her original engine.
before the cleanup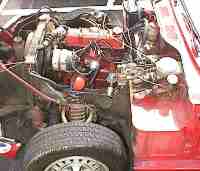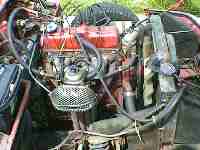 Mallory Dual point Distributor Stock Stromberg with Longflo air filter
After the cleanup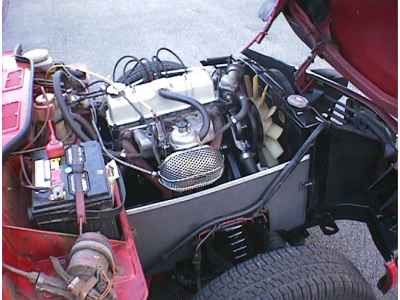 As you can see... she cleaned up very nicely. The new, custom made
engine side valence panels are Masonite hardboard with thick
aluminum c-channel strips for strength and support. They were
painted (soaked) with black heat paint designed for use on a
B-B-Q grill which added a nice color contrast.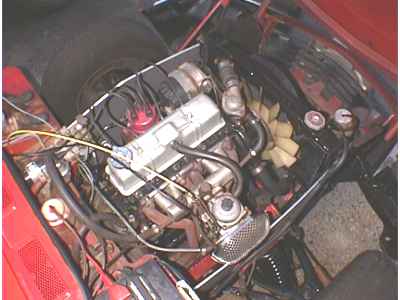 With all the plumbing cleaned up (mostly replaced and
re-routed), the compartment looks a lot sharper. There
is an electric fan on the front of the radiator, but once I
re-calibrated the temp. gauge I realized it isn't really needed.
Although the Mallory dual point distributor, does have
the added feature of vacuum advance, it is
not being used. She runs smoother and pulls farther
into the rpm range without it.
When the ball joints up front were replaced, all
the suspension components were cleaned up
and a fresh coat of paint applied.
The exterior The engine the interior