Well this can really lead you to pulling your hair out. Depending on the chassis you choose to use, you may run into problems here. The front frame mounts that support the front bonnet hinge mechanics changed across model styles.
The earlier MKII bonnet has the nice louvers, but it's stock mount configuration will not fit on a later model MKIV or 1500 series Spitfire chassis, or for that fact the GT6 MKIII chassis. You must switch chassis mount brackets to match the bonnet you want to use.

Small box extension on the MKII with
the hinge mounts bolted to the outside
of the extension. Bonnet lip level with
frame rail when closed.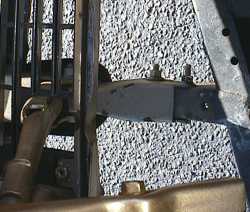 Another shot of the GT6 MKII bonnet mount
and frame connection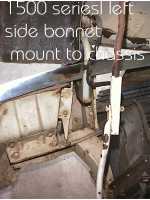 Larger box on frame with hinge
support inside box, hidden by bumper
overriders. Bonnet lip is now above
frame rail, covered by the side
quarter valance panels.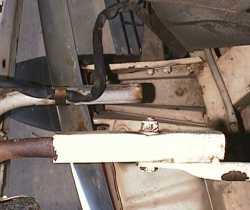 Spitfire 1500I bonnet mount and frame connection