Whitey's Miata Seat Swap
Details and Trim
Installing Miata Seats in a Spitfire
The Iinitial Trial Fit and Comparison The Mechanical Mounting The Results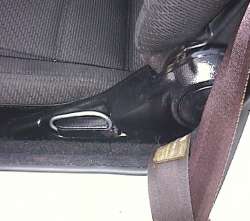 The recline handles sit a bit low and are hard to pull up with just one finger. I drilled a hole in the front edge, and made a metal rod 'loop' to act as a na extended handle. Much, MUCH easier to grab now.


Even the tonneau fits. Albiet, in these seat postions
the cover is a bit tight to snap down on the doors.
---
©1987-2008
All material copyright© Teglerizer 1996-2008

last edited 02/22/10


hits since last reset