Well my S.O. just walked in the room here, and shocked me with a little 'gift'? She's been cleaning and polishing a 70 year old brass lamp. When she handed me the plaque I was stunned.

The top left is an original untouched plaque from 1977. The top right, came out of my 1980 Spitfire, I had bought new, back in 1980. The bottom right came out of my '73 GT6 Big Red , and is the one she shined up. I can't believe the lettering didn't come off. It figures...I had to mess with it and try to clean up the lettering in the blue circle and screwed it up a bit, so I'm going to let her do the other two as well. The two photos are included, (one with photo flash...one without) so you could see the detail, and the contrast of the before and after results. The product she used is shown in the bottom photo. It's a water based brass polish that apparently doesn't effect the silk-screened lettering. Just minimize the pressure when rubbing and you'll be OK!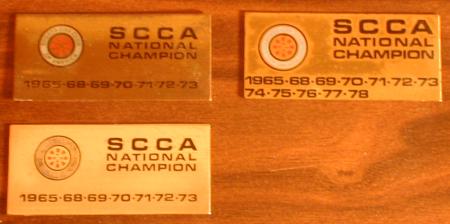 All note the difference in dates on the 1980 plaque. More numbers and a different font. The 'blue' wheel is also larger. These are all original plaques I pulled of the dashes myself and I know them to be original to the vehicles they were in.