Well what to do with this screwed up bonnet. hmmm...what to do.
It was bad enough the p.o. cut a hole to clear the GT6 radiator. but in this case, he also cut out a big side hole to clear the flat style TR6 DCOE carb setup rather than simply having used the proper sloped GT6 DCOE manifolds.
.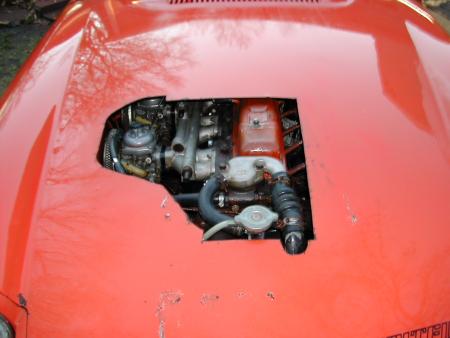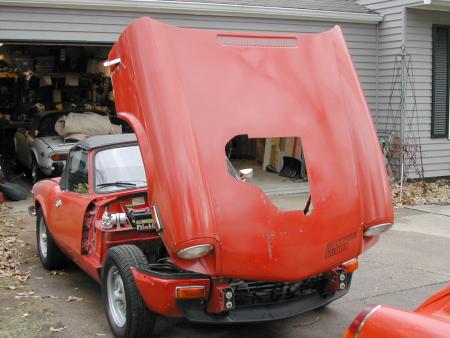 Well I started searching the internet for an aftermarket hood scoop, or cowl that I could simply place over the hole. Many I found were either just a bit narrow to be able to center on the bonnet and still cover the hole, or were not flexible enough to bend to conform to the bonnet as needed.
Luck would have it...EBay came to the rescue. In teh middle of my searching EBay I stumbled on this bonnet within a 1/2 day's road trip. And too boot...it's even the right color! I bid and won this bonnet for dirt. I can NOT believe I won it for so little compared to what a rust free bonnet is worth! I won the auction yesterday, and today (1/29/06), the seller met me half way to exchange cash for the bonnet.
Just for reference, a Spit bonnet fits VERY nicely in the back of a standard pickup truck (the po's) In my case, I had measured a couple of 2"x4"s to span the front pivot rods, as well as the rear near the catches. The bonnet fit easily on top my Jeep Cherokee for the ride home.
.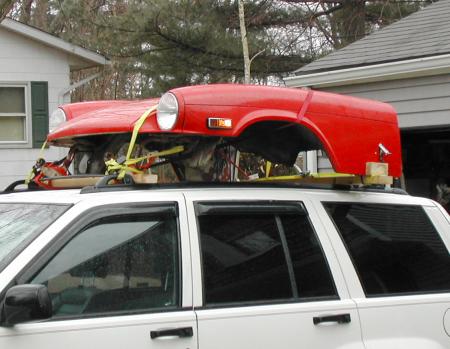 (notice the little wood block near the catches, screwed down in place to keep the
bonnet centered) Notches were cut i nthe front 2"x4" for the front pivots to rest down
in. They were prepped before I left home to pick this one up)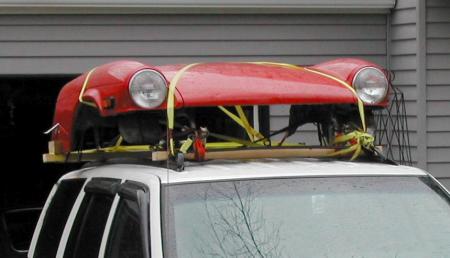 I had forgotten to take my camera with me, so these pics were taken when we got home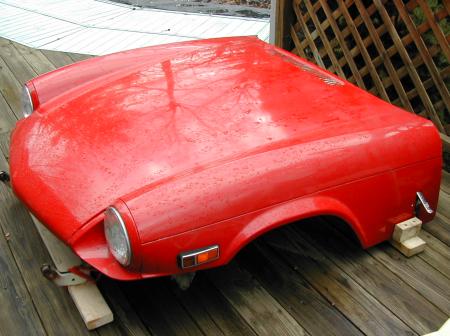 After unloading it off the Jeep, and sticking on the back deck, I had a chance to REALLY look it over. I'll be a son of a gun... it's in better shape than the one on Whitey!. It's got the typical stress cracks in the paint near the headlights, and just barely noticable crazing above the latches. This bonnet has been repainted, and heck if you wouldn't know... this bonnet was originally white! The whole underside is still white. And the outside matches (well pretty closely anyway) The Bastard Child. 'Tis kismet. Perhaps I'll keep this one for the Whitey Spit6 project, and put Whitey's on The Bastard Child.

...more to come...