This car was purchased with no exhaust system on board. So I purchased a stainless steel downpipe, and center section pipe that had the resonator in it.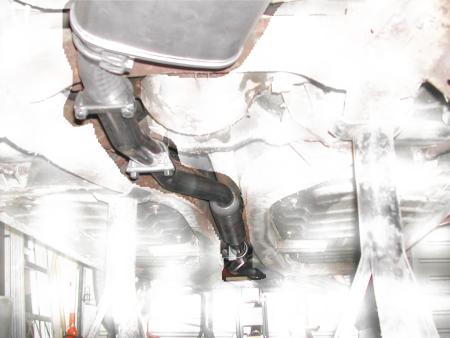 (image whited out to highlight the exhaust.. (it was a very dark picture)

The Cherry Bomb brand muffler on my GT6 engine stand sounded great, so I figured the center resonator and it's use here would sound just fine. Plus it was a heck of a lot cheaper than a few stainless rear box (about $22.00 at Pep Boys vs $269.00 for the stainless box) I figure this way, the next owner can update the rear box if desired with minimal work involved.
I dummied up a few 'curves' from tail pipe tips to attach this box to the stock style stainless center pipe. I did cheat and weld up two 'curves' to make up the final exit tip. It's a roarty sound, but subdued. Nice pleasant tone on the 2 liter 6 cylinder engine.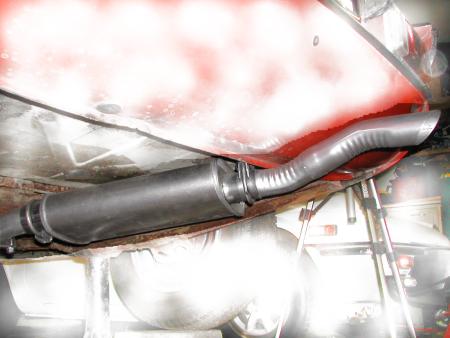 ($22.00 Cherry Bomb rear box. 1.75" inlet/outlets)
As you can see it fit nicely in line, even between the rear frame extensions of the Spit frame.