Now this was a wild one. I wanted to run crank triggered wasted spark. But what coil setup do I use? I could have gone the EDIS route, but wanted full control and 'revise-ability'. So once again EBay came to the rescue. It's a great resource for studying the variety of things available to cover any selected base.

Since there isn't any room on the main PCB for two additional VB921 transistors, I decided to mount mine outside the main MS box. Plus I didn't want to have to mess with the power pulses or the lines switching these power signals in the harness. So I re-wired the single VB921 already on the board, as the driver for my electronic tach. I wired up a 74HCT125 buffer driver circuit in the prototype area of the MS box (version 3 board) to drive the lines feeding the coil drivers outside the MS box. I didn't want to bring the raw uP signals out without some type of protection. So with all this in mind, I went searching for a coil setup to use.

In selecting a coil pack, I just happened to find one that included a wiring harness. This Oldsmobile three coil wasted spark setup was dirt cheap and came wit ha matching connector and chunk of harness. I also liked the way the wires came out the side rather than up and out on the axis of the plug wires like many do.

This is the raw module as purchased.
Now the cool part is, not two days after receiving this setup, I also found a set of brand new high output coils that match this setup. They are a full 45KV output.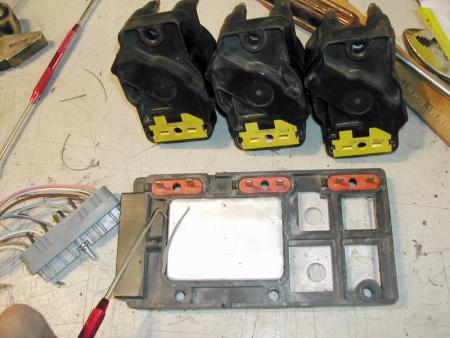 digging open the ckt, cover, and the high output coils above
These yellow bottomed coils are the high performance versions. Thank goodness the MS has the dwell control. These coils have a primary resistance of only 0.35 ohms! A sharp pick was used to remove the small rim of rubber glue that held the lid on the circuitry. Now the cool part too was I had previously found a full schematic to this module in a Haynes manual at a local Pep Boys auto parts store. So I knew what I was in for here. The circuits have a bunch of dwell control stuff as well as a slew of other inputs that controlled when the coils fired, none of which I needed.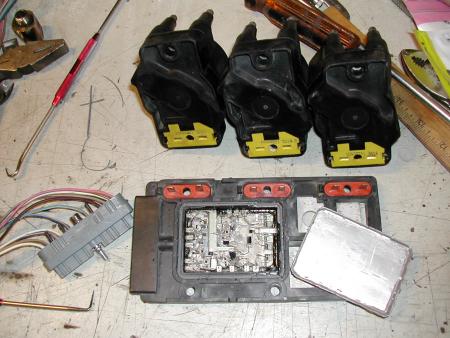 case opened up exposing the circuits