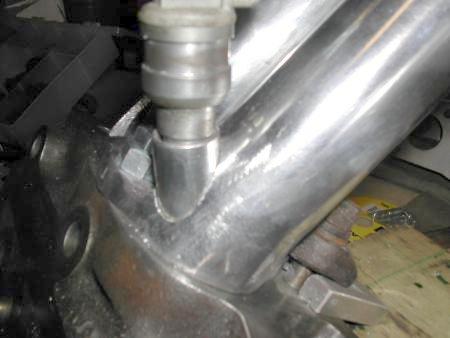 bung/injector test fitting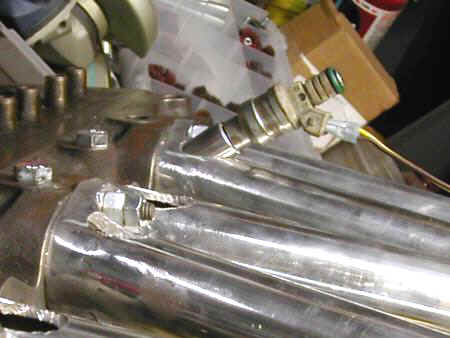 bung/injector test fitting
Another big advantage of angling these runners down a bit, allowed me to position the injectors to fire right down at the backs of the valves. In this next shot you're looking right down the drilled bung hole as if YOU are the injector. That's the back (inside) side of the vale seat you're looking at.
Next comes welding all the injector bungs in. I'll need to build another jig to hold them and line them all up in relation to each other. Once positions are determined I'll need to cut/trim all the bungs at an angle, to minimize the grinding on the inside of the runners.
update 2/21/06
Well I got the bungs installed and all the runners cuts to the same lengths. In this next shot you can see the jig I made up to make sure all the bungs were level to each other so the fuel rail and injectors would all be equidistant.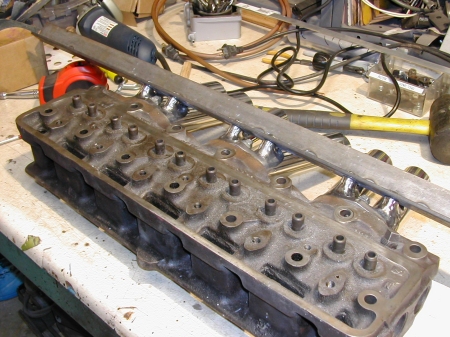 It's simply angle iron with bolts through it and short pieces of 1/4" fuel line. The bungs were all jammed onto the hose bits, inserted into the runner holes, and tack welded. After a lot of grinding and polishing, I'm happy with this end of the manifold.