The general consensus is the Siamese port configuration of the A and B series MG engine do not lend themselves well to anything other than throttle body injection systems if anything at all.
Well I've come up with yet another good candidate for such a setup on an MGB. My own MG BGT will be the test bed. I figure I should know what I'm doing at this point after fuel injecting my FIS6.
This design is based on a Cannon Weber DGV carb/manifold setup. With considerations to clearance issues, throttle body availability, my own desires to be unique, and an eye on simplicity, .... I present the following rather simple and clean design.
I started by simply welding two injector bungs into the legs of the manifold so they shoot straight down the runners towards the head. For the Megasquirt, two squirts alternating, should work just fine to keep an even fuel distribution going. I can always go up to four squirts, simultaneous if needed.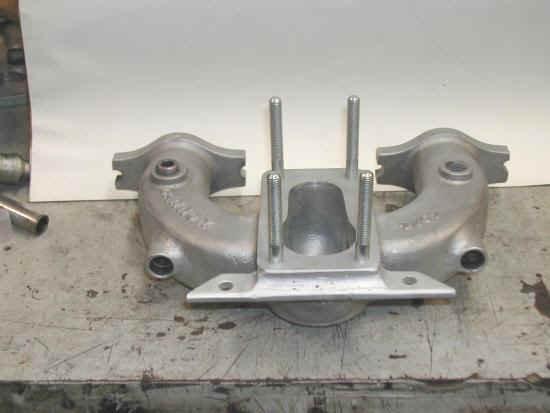 Although the fuel rail mount is in this picture, the next step was the rail design. I cut the injector cups of a Ford Duretec fuel rail I grabbed at the local pick-and-pull yard. I like these cups as they have a short pipe out the side, making it easy to connect to a rail. After drilling to properly spaced holes, I silver brazed (56% silver) them into a 1/2" square steel section, right off the shelf at Home Depot.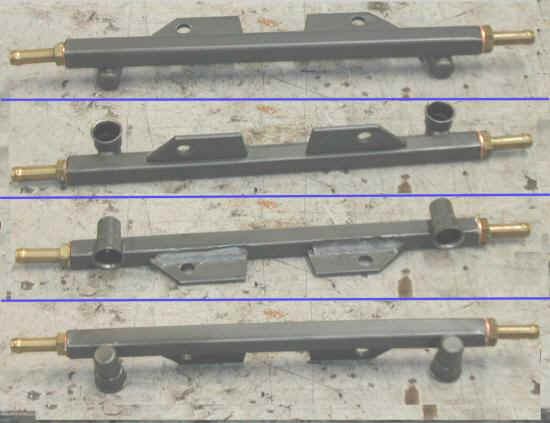 Once happy with the alignment, I started on the mount. The rail was stuffed on an old pair of injectors and eye-balled as to how a mount should be designed. As usual I got luckily with what I think turned out to be a quite clean layout. An aluminum bar was added to the underside of the manifold carb flange, and two steel ears welded to the rail. The rail was clamped in place and the two mount holes drilled.
I had planned to mount a Honda pressure regulator right on the rail but decided against it for flexibility reasons. I prefer to use adjustable regulators, and can simply mount one on the inner fender well wit ha pressure gauge. I welded 1/4" thick squares into the ends of the rail, drilled and tapped them, and installed hose barbs with copper compression washers to seal them to the rail. After installing a set of imjectors, I clamped them in place and pressure tested the rail. A couple of hose clamps, a pressure gauge.... and it all held 90psi for about 4 hours with no bleed down. Yippee!
A really amazing part of all this, (and one reason I decided to even try this) , was the accidental discovery of a component fit. I had wanted to use the twin butterfly progressive VW throttle body on FIS6 . Much to my amazement, that VW body fits perfectly on the Cannon manifold. When I say it fits, I mean it quite literally is the same bolt pattern as the original Web DGV carb! Where the Weber DGV is a 32/36mm butterfly configuration, this VW body is a 35/44mm. So I ported the manifold just a bit to match the butterflies.