The opening screen is just a display of the four tracked parameters. Leave it this way and it's just a display of the parameters.
Click on the little graph icon at the right and the full graph drops down. The graph is startable, stopable, saveable, and recallable. By sliding the vertical dotted line left and right, the display show the values in the top windows for analyzing needed adjustments at those parameters.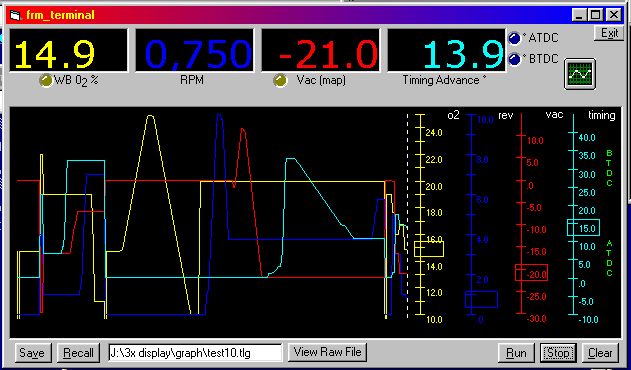 The four scales at right match up via the colors. The little square boxes on the scales move up and down with the latest readings.
The original design recorded these parameters via a BASIC Stamp 2 Module (n.f.i) programmable micro-controller. The original O2 meter section was scaled for a cheapo hi/lo O2 sensor. I've now converted it to read the Wide Band O2 meter. I've done it two ways, but still can't decide whether to simply read the analog from the meter and let the Stamp convert it, or read in the serial from the TE5301 display, and simply pass it along through the Stamp to this logger application running on a laptop. Ideas! comments? Yes.... I am planning on releasing versions of this logger program. It's written in VB6 and only uses two API calls for the graph. The Stamp outputs all it's data as serial information, making interfacing very straight forward. Clicking anywhere there is a graph after recalling, moves the dotted line to that point. Where the line falls, the logged data points at that point are displayed in the boxes at the top. Versions of this software, and code (and/or programmed Stamps) may also be available if the interest is there.