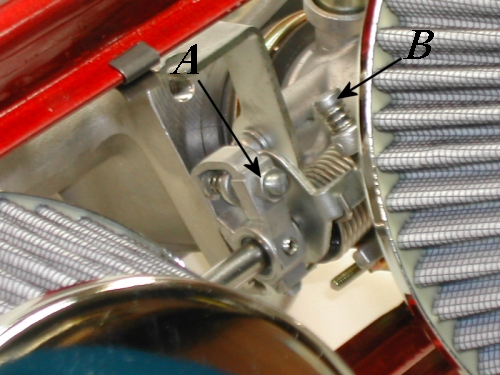 Screw A in the picture above, sets the inter-carb balance. B is the standard types of idle stop. The lever from the carb on the right, pushes against the back side of screw A. The spring behind the screw, is captive on a pin, and all captured inside the lever screw A is screwed into. The spring simply eliminates slop between the carbs. I'd LOVE to have this design on my MGBGT and on my stock GT6 as well! It would make balancing the carbs and throttle linkage soooo much easier.
Lever A was originally pinned to the slave body butterfly shaft. After pressing out the pin, I redrilled it, and tapped it for 8-32 set screws. Since this lever needed to sit so close to lever B, I couldn't use the little rod cups like on stock SUs. So I drilled the drive body butterfly shaft, and pressed in a steel pin. I then drilled and reamed the end of the inter-connect shaft to simply slip over the pin as the pivot point. This is also why I couldn't re-pin lever A to the shaft, as the pivot pin filled the shaft where the lever pin would have needed to pass through the shaft. So two flats (one front and one rear) were cut into the shaft for the set screws (visible above in the bottom of lever A ) to lock it to the shaft.
In the first and second pictures on this page, you can see the shaft connection to the slave body. I drilled out a thread-all coupler to match the shaft diameter. I then cross drilled it, tapped and inserted 8-32 screws to pin the shafts together.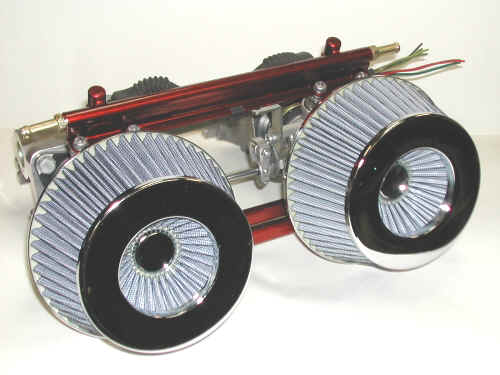 The air filters are 3" 'rice-rocket' units, off-the-shelf from Pep Boys. Since the TB intake is actually only 2.75", I wrapped the stepped flange with dense foam strips. Once formed, they were glued inside the air cleaner opening as a stepped platform to match the throttle bodies. 3" hose clamps are used (as designed) to hold the cleaner firmly in place.
This entire assembly amazingly weighs in at under 6 lbs! The overall length from head flange to outer edge of the air filters is shorter than the stock carb setup with the metal can filter boxes.