After looking at the various fuel pump and pressure requirements, I think I've found the best route as an aftermarket setup.

Before I get into specifics, let's review a moment.

Requirements/Problems:
| | |
| --- | --- |
| | High pressure EFI fuel pump |
| | Anti surge tank |
| | Low pressure lift pump |
| | High pressure fuel lines |
| | Fuel pressure regulator |
| | Return line |
| | Fuel rail |
| | Fuel injectors |
| | EFI manifold / Modified carburetor manifold |
| | High pressure fuel filter |
OK... so the high pressure pump is a no brainer. Anything over 50 liters an hour is more than enough for a Spitfire. But remember an 'in tank' pump runs cooler and much more quietly. But like the return line from the pressure regulator, how do you modify the tank for an internal pump and pickup and return lines? Another problem with a surge tank is where to mount it. Not in the engine compartment! That would simply heat the fuel in a mini oven.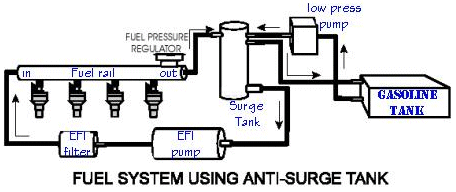 Fuel Pump and Surge Tank in one unit!
| | |
| --- | --- |
| | Further investigation, found a simple solution. An 'in tank' pump, but it's mounted in it's own little surge tank. Holley makes it and designates it part number 12-923. (Physical dimensions unknown at this time) |
This particular unit has all the feeds needed for the low pressure supply and hi/lo return to the tank, as well as the high pressure out and return lines from the fuel rail. The electrical connection and pressure adjustment feed out the end as well. Using this surge either mounted under the chassis against the frame rail, below the gas tank, or it will be mounted in a protected box in the trunk where the stock fuel filter is currently in a spitfire.
Then using the Holley unit it would look something like this.

I'll have to run high pressure lines all the way up to the engine and back, but the rest of the 'loop' lines will be shorter, thus a cleaner layout. The fuel will also run cooler in the lines and spend less time in the engine compartment near heat.