a Triumph Spitfire
and/or a GT6
First Models
Well here is where a few personal preferences come into play. That, and what you wallet can handle for the $$ layout. Performance does play a part in which format to use, but just about any will suite a 'daily driver'.

There are a few different 'standard' hardware formats to fuel injection systems. A variety of 'intermediate' setups exist, but the most common types to consider are:

TBI - Throttle Body Injection - is physically, much like a single carb setup on a big V8 engine. Air intake control (throttle plates) and gas delivery (injectors) are situated in one location with a manifold delivering air to all cylinder via a common plenum.

TPI - Tuned Port Injection - Usually has multiple injectors (one at each intake port) with one throttle body and 'tuned' individual air passages in the manifold delivering air to each intake port. This is one of the most common setups on V6 and V8 engines these days.

MPI - Multi-Port Injection - usually has one injector (or more) per cylinder, along with multiple throttle plates with individual runners to each cylinder. This would be equivalent to a dual DCOE carb setup on a four cylinder engine, or triple DCOE's on a 6 cylinder.

I started out working up the TPI type setup as it's cheaper in respect to the number of throttle bodies needed. I started out with a stock ZS carb intake manifold and was going to install injector bosses near the intake ports, and use a standard carb (with piston removed) as the throttle body.




Weldable and Screw-in
bungs

Fully Assembled
add-in injector

Then I stumbled on the Venom intake unit and realized how easy it would be to mock up a manifold like theirs for a Spitfire. The following photo is a mock up with dimensions of what the manifold might look like installed in my Spitfire. The photo mock up has no throttle body installed, but would have nearly 9" between the radiator for body and air ducting to a radiator front mounted air filter. This image was used as a model, sent to various machine shops for $$ quotes on producing one.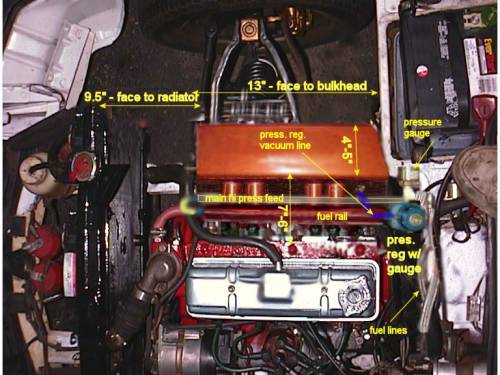 (dummy mockup of Venom style plenum box with
one T.B, port injection, fuel rail and regulator)
Well I decided for my first build, I'm going with Dual DCOE style throttle bodies with four throttle plates and four injectors. Why? Better performance, more flexibility and tuning accuracy. And as always... the throttle bodies were a great deal on EBay! :-)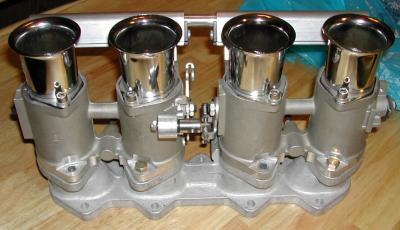 No that's not a Spit manifold (it came with the EBay auction)
I'll be using a standard dual DCOE intake manifold for a Spitfire.
This is a bottom side view of the dual 45 mm throttle plate DCOE
style throttle bodies, complete with fuel rail. I ended up with a
set of properly sized (flow rate) Bosch injectors as well from EBay
for under $50! Measurements, from head to airbox, show the
setup will end up shorter than the stock ZS setup.
a work in process...

...still being edited

©1987-2010
All material copyright© Teglerizer 1996-2008

last edited
3/15/08


hits since last reset