The temperature probe threaded boss will thread right into the stock temperature sensor location on the 1500 engine. The problem is there isn't anything to seat the sensor against.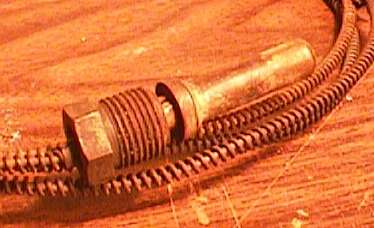 mechanical temperature probe and mount boss.
To properly mount the sensor you need the adapter that is used (among other places) on the 1275 MG A-series engine. The standard 1275 A-Series MG Midget unit is what I used (part number 11K2846) Thread this into the block with a stock brass compression washer. Then thread the sensor into the adapter. The sensor clears the bottom of the thermostat without any problems.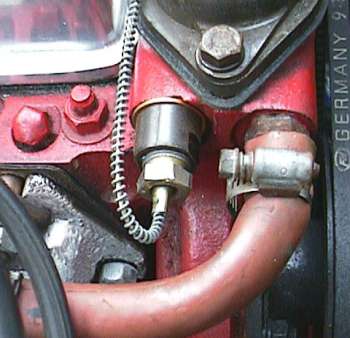 Adapter in place (with washer against block
and the sensor mounted in the adapter.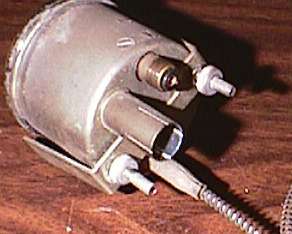 The back of the gauge showing the
permanent connection of the temp
sensor line, and the o-ring seal (usually made
of leather) of the oil pressure pipe connection.
The temperature sensor is part of the gauge and can not be removed from the back of the gauge. I ran my sensor through the dash, and created a few 'loops' (like the clutch line for flex-ability) in the pipe to give me the ability to pull the dash without major flex of the gauge line. I ran it through the bulkhead at the choke cable grommet in the firewall. This brought the line out just under the horn and starter relays, and up along the support next to the brake master cylinder.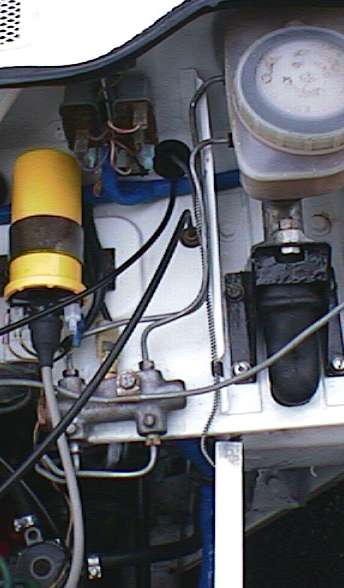 I ran the line down the edge of my homemade side boards to the front of the engine, and then out up and over the alternator to the mount. You can see the service 'flex' area bent into the gauge line where it leaves the firewall and joins the side board.