Whitey's exterior work

(all photos taken Sept /Oct/Nov 2000)
Whitey - 1975 Spitfire Specific Tasks and Procedures
| | | | | | |
| --- | --- | --- | --- | --- | --- |
| Transmission | The vibration | second rebuild | Clutch | O/D | driveshaft |
Well it was a slow process (weather permitting) but Whitey's initial paint work was done in sections. Each area was masked, sanded, primered, and painted as the various areas of the vehicle were restored. The engine compartment, bonnet, doors, rear deck, rear end, and undercarrage were all treated as seperate paint projects. The final painting and clear coat will all be performed at once.

The original rear bumper had a nice crease in the middle. Both the base bumper and the large outer overrider were bent. You've gotta' love EBay. A VERY nice 'original' (real oem not aftermarket flimsy rechromed crap) rear bumper at 1/3 the cost, was acquired with all all mounts and overriders included. Very clean and shiny. Very lucky.

The front bumper was the same story. The old one had the usual worn out chrome from the water running off the bonnet just to the outside edges of the overriders. EBay to the rescue again. This bumper was even cleaner and nicer than the rear.


Two shots of the replaced front chrome. Bonnet still needs paint work completed

The new(er) rear bumper and all the trim and lights were stripped off the
car for masking and painting of the sheet metal work.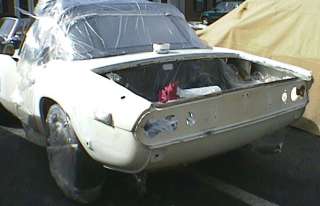 all masked off, sanded and primered awaiting the final color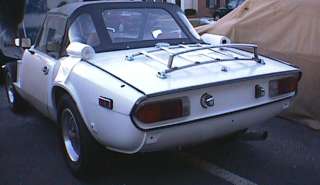 not bad, not bad at all. Now just the doors
and bonnet need painting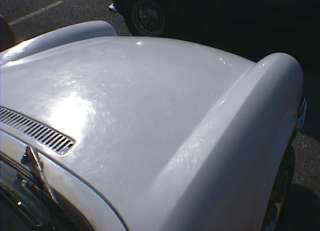 Not bad for a spray can huh! It'll need to dry for
a day or two before wet sanding again and the final coat.

The brand new Panasports really look
good with the shiny new paint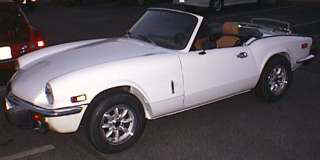 I chose Toyo 185/70-13's for the tread pattern, tire shape,
price and availability. The slightly rounded cross section
allows plenty of wheel well clearance. It's really
surprising how quiet they are on the road.
©1987-2010
All material copyright© Teglerizer 1996-2008

last edited
3/15/08


hits since last reset