I can't see shelling out all that money to have a someone else spend all that time, sanding my car, when I can do it. HHmm... paint. I know I can get it cheaper than what the local paint shop wants for it....
Wow I love the internet! A search turned up a BIG auto paint supplier, right around the corner from me... COOL!! So I run Big Red's passenger door over there in my '73 Blaze Red MG BGT. Yep... they have that little color reader gizmo. The guy takes a reading off the door, (and off the Blaze Red GT as well) and we have a matching can quart of Acrylic Enamel.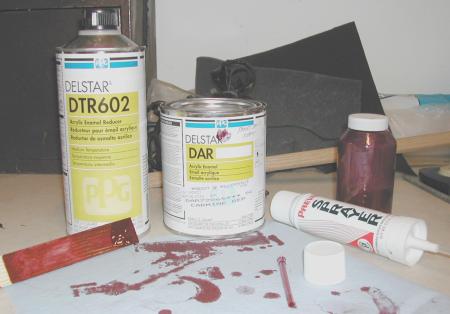 I also bought a quart of reducer. Both products are PPG Delstar. The label on the paint can... DAR72065 Carmine Red oem BLVC82. THIS...is what the computer spit out when it read the reader!
So we went with it. I'm using the self-propelled Preval sprayer cans. With the reducer, these actually work very well for small area painting. I'm only planning on painting the 'nooks and crannies' myself with this setup. The final complete outer body spray I'll leave up to a pro shop.