Well I guess this is what I get for not keeping up with my editing and documentation of Big red's restoration. While playing with a plug-in engineering A/D board in my computer I managed to electrically damage a hard disk, resulting in the loss of about 12,000 files. About 400 of them were photos of the completion of Big Red's restoration along with html pages that I simply hadn't uploaded yet. The spreadsheet documenting the $$ invested, etc etc. Yes .... I know... me... of all people. A computer weenie since the mid 70's in the days of cpm, MSDOS 2.0, and when Windows 1.0 was nothing more than a new fangled graphical interface designed for O/S 2. When the only way to format a hard disk was with the DOS DEBUG util. Me... with no backup for over four months. aaaHHHH!
Well I lucked out and did find a few photos of the post resto work I had tucked away on other websites. So I'll post them here showing off a few of the 'special' items installed in Big Red, to 'leave my mark' and make him one of a kind.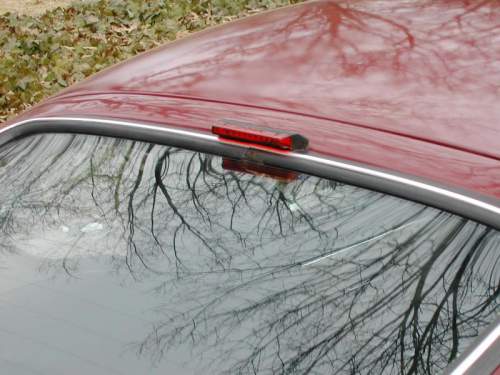 third brake light and stainless steel trim
Here's a shot of the third brake light I installed. The light came from J.C. Whitney. it's a 12 L.E.D. light and is VERY bright. It's mounted on a custom Z-bend piece of metal and was installed in the groove before the new glass seal was installed. A bit of flow-able silicon sealer was added just to make sure water wouldn't get under it. The wires run under the interior rear ceiling light molding, down the side, and attaches to the standard rear brake light socket.
The metal trim molding in the rubber glass seal, was originally an early Spitfire, real stainless steel front windshield trim piece that I re-bent to fit this window. The two ends of the two trim pieces meet top center under the light and bottom center. At least the stainless steel won't shrink so I don't need the center cover pieces to hide the seems.
The window seal was installed with the single end gap at the top of the window under the third brake light. This made it easier to seal up with black silicone sealer as well as hide the joint under the brake light.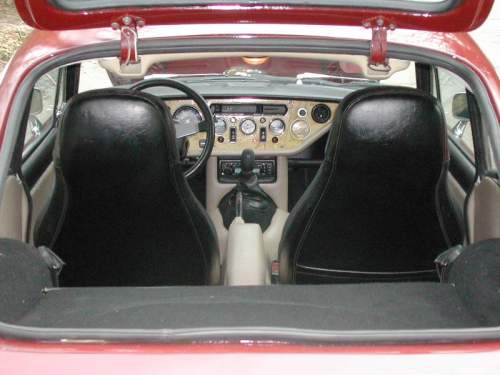 Miata seats tan trim and 3 gauge dashboard
This is just a shot through the rear hatch showing of the Miata seats with headrest speakers, the rear custom made carpeting and the three gauge Bird's eye Maple dashboard.